2000
Rhoda jacket auction
Berkeley, Calif., December 8 (JY&A Media) A jacket once worn by Valerie Harper, a.k.a. Rhoda Morgenstern on the Emmy Award-winning The Mary Tyler Moore Show and Rhoda, is up for auction, with proceeds to a non-profit organization, Genesis II, fighting hunger. The jacket was donated by Ms Harper for this auction, which can be found here.
Mary & Rhoda tops Monday night ratings
New York, February 9 (JY&A Media) Despite divergent opinion from fans, TV Guide reports that Mary & Rhoda still managed to score highly on Monday, February 7. The magazine states that Mary & Rhoda was the most-watched programme that night, attracting 17.8 million viewers. It beat CBS's Everybody Loves Raymond, a sitcom which Mary Tyler Moore has gone on record to say she enjoys.
Fans get ready for Mary & Rhoda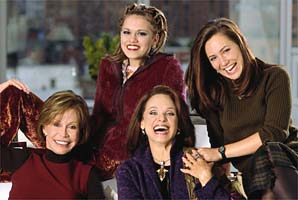 Mary Tyler Moore as Mary Richards and Valerie Harper as Rhoda Morgenstern in the much-awaited Mary & Rhoda on Monday, February 7. Their daughters Rose and Meredith are played by Joie Lenz and Marisa Ryan.
Alexandria, Va., February 4 (JY&A Media) With Mary & Rhoda due to air on ABC this February 7, 8 p.m. EST, Mary Tyler Moore and Valerie Harper fans at the Mary & Rhoda List are organizing viewings and other functions on the night.
Private events include get-togethers of fans all over the United States (including a party in Seattle, Washington at http://www.viajartravel.com/mary.htm) and the sending of updates for overseas audiences who won't see the TV movie for several months, while public events lined up to promote the sitcom include a live chat with Mary Tyler Moore via the ABC-TV site on February 7 at 4 p.m. Participants at the Mary & Rhoda List can also get information from other fans on guest appearances by the actresses leading up to the TV movie's broadcast.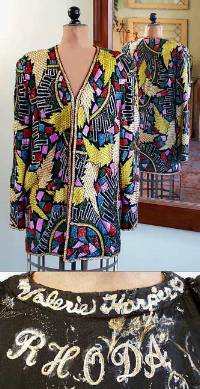 Valerie Harper jacket to be auctioned on February 7
St Louis, Mo., January 4 (JY&A Media) February 7—the début of Mary & Rhoda—isn't the only reason for Mary Tyler Moore and Valerie Harper fans to celebrate.
A jacket owned by Valerie Harper, presented to the Malnutrition Coalition in 1999, is being auctioned now at eBay, at this URL.
The jacket was worn by Valerie during her career on The Mary Tyler Moore Show and Rhoda. Both Valerie and Jacklyn Brink-Rosen, director of the Malnutrition Coalition, agreed to allow Genesis II, a faith-based inner-city neighbourhood mission in St Louis, Mo., to auction the jacket as a fundraiser.
The jacket is signed by Valerie and inscribed 'Rhoda'. There is an autographed photograph of Valerie Harper and a personal letter from Jackie Rosen accompanying it.
Valerie Harper is active in fighting world hunger. In 1999, the Malnutrition Coalition Award was presented to Jim Reina, founder of Genesis II, the group which is auctioning the jacket. For further information, contact Jimmy Reina at [email protected].
1999
Mary & Rhoda confirmed for February 7
New York, December 28 (JY&A Media) ABC has decided to air Mary & Rhoda on February 7, not February 27 as some anticipated. If successful, the TV movie could be come a series.

If any Mary & Rhoda list members have any information about updates at their sites, we welcome them.
Why is there advertising on a site that's non-profit? Well, the space costs money and the ads help subsidize it. We are careful about who gets to advertise here, so you won't be seeing any sites which we believe will waste your time.
Mary & Rhoda: the background story
New York, October 20 (JY&A Media) Mary & Rhoda, the new made-for-TV movie to air during sweeps' week in February 2000, sees Mary Tyler Moore and Valerie Harper reunited, playing the characters which made them famous on the Emmy Award-winning series The Mary Tyler Moore Show and Rhoda.
The script, by Katie Ford, sees Mary Richards return to New York from Europe, after her congressman husband's death five months before. Rhoda Morgenstern Gerard Rousseau is twice divorced, having married a Frenchman, Jean-Pierre, since her marriage to Joe Gerard on Rhoda.
Both have daughters: Joie Lenz (Guiding Light) plays Mary's daughter, Rose, a student at NYU; and Marisa Ryan (New York Undercover, Major Dad) plays Rhoda's Meredith, a pre-med at Columbia.
The story revolves around Mary and Rhoda re-establishing their friendship and support each other, now that they are on their own. Mary remains in the news and media business, while Rhoda tries to start a photographic art exhibition.
UltimateTV.com reports that Christine Ebersole and Elon Gold co-star. The movie is being directed by Barnet Kellman and produced by Cecilia Kate Roque. Mary Tyler Moore and Susan B. Landau are executive producers.
Mary & Rhoda commences filming in Manhattan
New York, October 17 The New York Post reports that Mary & Rhoda commences filming in Manhattan on October 18. The movie, to air on ABC during sweeps' week in February 2000, is being directed by Barnet Kellman, executive-produced by Susan Landau, and the script written by Katie Ford.
Mary Tyler Moore says she is delighted with the script. The Post believes that if the movie is successful, a television series could follow.
Mary & Rhoda to air sweeps' week
Los Angeles, October 14 Valerie Harper and Mary Tyler Moore will team up once again for a two-hour network event. They will be reviving the characters of Rhoda Morganstern and Mary Richards for ABC airing February 2000 sweeps' week. The show is currently filming in New York.
Valerie Harper's All under Heaven returns
Los Angeles, October 11 Valerie Harper's critically acclaimed one-woman show All under Heaven, on the life of Pearl S. Buck, is being brought back to the stage once again for a six-week run in Florida from November 16 to December with performances at the Parker House in Ft Lauderdale and at the Royal Poinciana Playhouse in Palm Beach.
The show was greatly enjoyed by list members who attended earlier performances. They were not alone: The New York Times called it an 'intelligent, witty, a well-drawn portrait!'
Tickets are available at Ticketmaster.
Mary & Rhoda begins filming in New York
New York, October 6 Mary & Rhoda, the new reunion movie reuniting the characters of Mary Richards and Rhoda Morgenstern, will commence filming in New York on October 14, says one source.
One source believes that the storyline will not feature Mary and Rhoda having daughters named for each other. Mary Tyler Moore plays a widow, once married to a Congressman, whose daughter drops out of university.
The filming has since been confirmed by several private and entertainment sources.
Valerie Harper to open her own site
Los Angeles, September 25 An email to the Mary & Rhoda site here suggests that Valerie Harper will open a new site, confirming suspicions on the list.
The launch is to take place in six weeks' time.
MTM interviewed on Larry King Live
New series on the cards again
Washington, June 21 Mary Tyler Moore was interviewed by Larry King on CNN's Larry King Live. She discussed her career and her work as chair of the Juvenile Diabetes Foundation.
At the time of writing, a rush transcript can be found at the CNN site at http://cnn.com/TRANSCRIPTS/9906/21/lkl.00.html.
In the interview, Mary discussed how juvenile diabetes is a more serious form of the illness, of which someone dies every 13 seconds, according to King. She talked about her autobiography, After All, her past alcoholism, and how she coped with life after the death of her son from a self-inflicted gunwound. By the middle of the show, the focus went on her career, beginning with commercials on The Ozzie and Harriet Show.
According to Mary, Mary & Rhoda may make its début as a two-hour telemovie on ABC. Katie Ford has writing duties. The premise, where Mary and Rhoda each have characters named for the other, remains.
Those interested in donating to the Juvenile Diabetes Foundation can phone 1-800-JDF-CURE.
Mary Tyler Moore, Valerie Harper plan two-hour reunion movie
Ottawa, February 5 One list member has informed us that despite being dumped by ABC, Mary Tyler Moore and Valerie Harper are still hopeful that the new show will be carried.
There will be a format change. Mary Tyler Moore, speaking recently in Canada, said that they are now looking at doing a two-hour pilot movie. Originally, 13 half-hour episodes had been planned.