In 1997, this was the location of the home page for Lucire.

Since search engines continue to pick up this page and rank it highly, we've put this up as a placeholder, and commemorate the original home page that had been here. At right is the surviving screenshot of that home page from Site of the Day Award in 1997.

In 1998, having confirmed that Lucire would work as an independent site, we moved to our own domain at lucire.com. This is where things really started to take off, with our UNEP partnership in 2003, our first print edition in 2004, and our first licensed print edition in 2005. A quarter-century later, our award-winning site continues, along with our international print editions.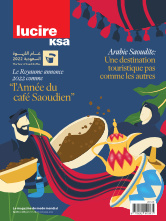 Click on the heading above to read more about our licensing programme, from international print editions to other collaborations. At right is one cover from Lucire KSA, which is published in English and French.

In 2020, a US-based spin-off, Lucire Rouge, launched, helmed by two of our long-time US west coast team, editor Elyse Glickman and correspondent Jody Miller.
Slightly earlier, in 2011, Lucire Men launched as an experimental site, adapting its name from one of our print supplements from the mid-2000s. Although not as regularly updated, it attracted a sizeable number of advertisers in the mid-2010s.